American Airlines has spent the past few years overhauling its product and service offerings, but now Chief Commercial Officer Andrew Nocella believes that it's time for a bold new direction. The company is planning to release an update later this month with changes aimed at enhancing connectivity between American's hubs in Los Angeles and New York City–the first step toward what could be one of America's most ambitious airline concepts yet:
American Airlines' Chief Commercial Officer, Robert Isom laid out a new vision for the airline. The airline is looking to become more competitive and cheaper. American also plans on expanding its destinations in the future. Read more in detail here: airline news.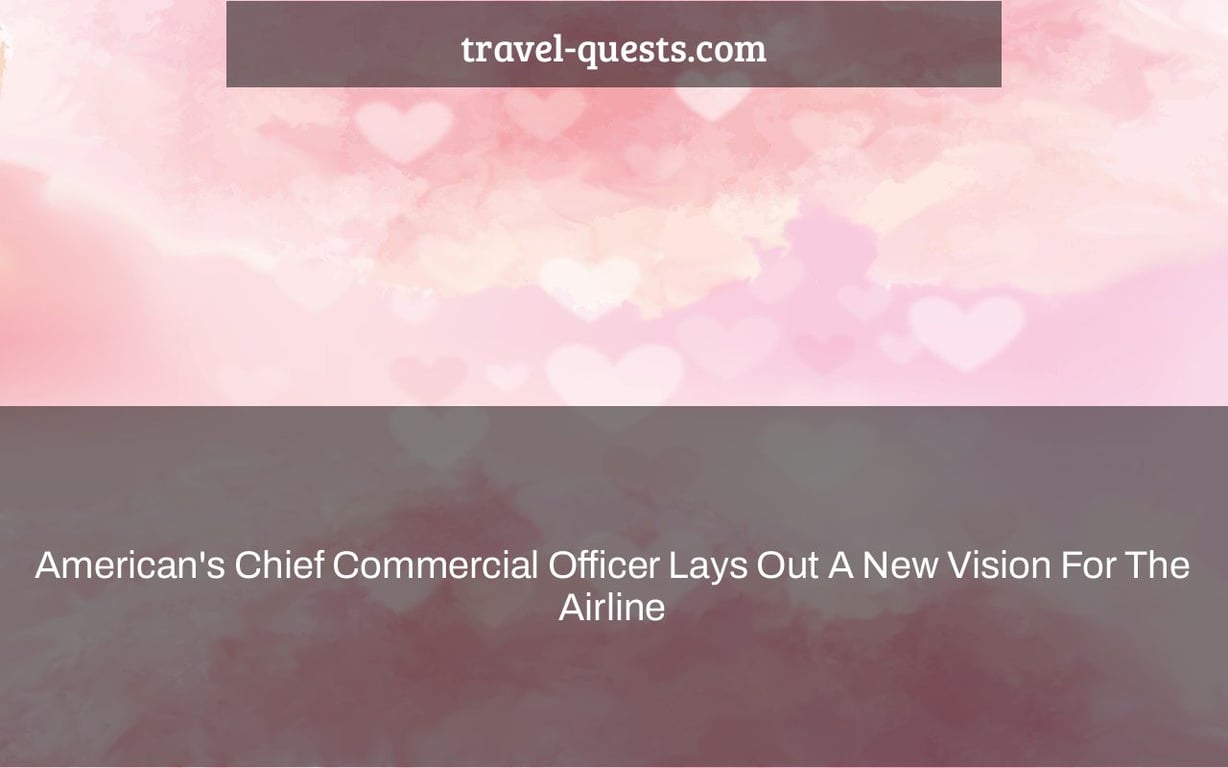 The Chief Commercial Officer of American Airlines lays forth a new vision for the airline.
on December 15, 2021 by Gary Leff
As part of the unveiling of a new senior leadership team, American Airlines Chief Commercial Officer Vasu Raja put out a new vision for the airline, which follows Doug Parker's departure as CEO and the appointment of Robert Isom as CEO at the end of March.
It's a customer-centric approach that we haven't heard defined properly at American Airlines since US Airways took control. ("Caring for others on their life's journey" is too vague and bland to count.)
The complete text of the notice may be seen here, courtesy of aviation monitor. JonNYC
pic.twitter.com/is27aEKGra
December 14, 2021 — "*° JonNYC °*" (@xJonNYC)
The mention of densifying aircraft as a positive and international flight expansion at a time when they're cutting schedules owing to a scarcity of planes (after retiring widebodies during the epidemic) seems weird. But there's a lot to admire here, particularly his statement that "it's simple to conflate a client and a transaction to the point where we may treat a person differently whether they travel for business or pleasure, or in one commercial program vs another."
Business passengers are also leisure travelers, and valued long-haul business class clients for work may fly the lowest cost with their family on the weekend. Indeed, how you serve that consumer while they're traveling with their family is just as crucial as how you treat them when they're paying the highest ticket cost on their own.
And, while Raja has spoken as if the schedule is the only product, he begins by emphasizing the importance of delivering the hard product ("lounges, configuration, entertainment") "that is valuable to customers and profitable for us" and delivered in a way that is "seamless and consistent for the customer, by any means necessary."
"We need to guarantee that all of our business efforts provide greater value for our clients," maintains the customer emphasis. Too frequently, America's greatest flaw has been a concentration on what rivals are doing (and replicating it, albeit to a lesser extent) rather than what consumers want.
American Airlines does not have a mission statement against which to make choices, but this letter may be used as one. It's not dissimilar to the concept I outlined in American Could Adopt, but it's much more defined.
If American provides the schedules, dependability, product, and policies that consumers want, they will be well on their way to success. Of course, this isn't the whole tale. People supply their goods, and their employees have often been perplexed about what is required of them. Are they attempting to be a low-cost carrier, or are they attempting to provide a quality service? Flight attendants typically are unaware of the airline's service standards and learn about their jobs via rumors, galley gossip, and internet forums. This results in an inconsistency in the experience, which is difficult to rectify.
Changing the policies and harmonizing the product, on the other hand, would be a solid start.
More From the Wing's Perspective
Watch This Video-
Related Tag