Holland America Line is offering limited time discounts on their Ultimate Upgrades event. This cruise line offers some of the best cruises in the world, which are often booked out months in advance. There's still a chance to save big with this ultimate upgrade offer!
The "Holland America Line Ultimate Upgrade Event Offers Unheard of Deals" is a promotion that offers unbelievable deals on Holland America Line cruises. The promotion ends in March 2020. Read more in detail here: holland america cruises 2021.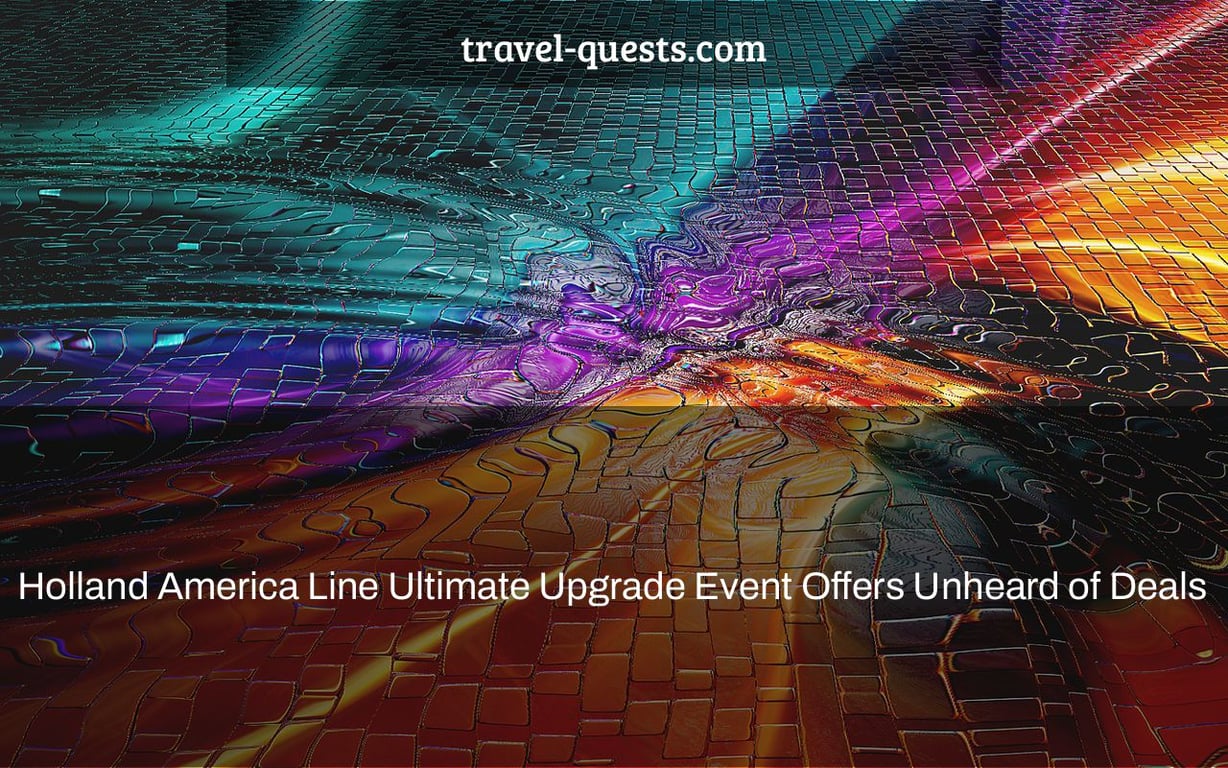 Holland America Line is providing exceptional savings for all sorts of passengers via "The Ultimate Upgrade Event" now until February 28, 2022, just in time for wave season. These discounts are valid on certain summer 2022 to spring 2023 cruises with destinations all around the globe.
Deals for the Wave Season
The first quarter of the year, when cruise fares are normally low to inspire vacationers to make future trip plans, is quickly approaching, and travel-hungry visitors are eager for amazing offers.
With "The Ultimate Upgrade Event," Holland America Line is giving incredible benefits such as free cabin upgrades to the next highest category, $75 rates for minors aged 17 and younger as the third or fourth passengers on Alaska trips, and 50% off deposits.
Photo credit: Shutterstock.com/StudioPortoSabbia
These discounts apply to certain sailings in Alaska, the Caribbean, Mexico, Europe, the Panama Canal, Canada/New England, Hawaii, the South Pacific, South America, Antarctica, Australia, New Zealand, the United States Pacific Coast, and more leaving in 2022 and 2023. As more travel continues across the world, this genuinely provides enthusiastic travelers many alternatives to enjoy and look forward to.
"We want to encourage everyone to think about next year's holiday plans now and book early by providing our most appealing offer during the annual 'wave' booking period," said Gus Antorcha, president of Holland America Line.
"Cruising is already an exceptional bargain, and with our limited-time Ultimate Upgrade Event, there's no better time for our passengers to start planning their next cruise holidays to places all over the globe."
Also read: Holland America's Fifth Cruise Ship Reopens for Business
Guests who book before January 20, 2022, will get up to $200 in onboard spending money in addition to the exclusive deals. Spa treatments, specialized dining reservations, gift shop purchases, and more may all be paid for using onboard credit.
Holland America Line provided this image.
Caribbean itineraries start at $799 per person, double occupancy, while Alaska sailings start at $849. Taxes, taxes, and port expenditures are not included in the price, and the deals do not apply to Grand Voyages or cruises of fewer than five days.
There are many premium offers available.
Guests may upgrade even further with the premium "Have It All" package, in addition to the fantastic "Ultimate Upgrade Event" bargains. Guests will get the following items as part of the package:
Shore Excursions: Depending on the duration of the voyage, passengers are entitled to up to three $100 excursions or a $100 discount on other specified tours. Thousands of trips from active activities to deep culinary experiences to historical explorations and cultural discoveries are eligible for the discount.
With the Signature Beverage Package, you may have up to 15 beverages each day, including beer, wine, spirits, cocktails, soda, coffee, and more. The cost of bar service is covered.
Award-winning specialty dining is available for up to three nights, depending on the ship and length of the cruise, at restaurants such as Pinnacle Grill, the ultimate steakhouse at sea; Tamarind, showcasing the traditions of Southeast Asia, China, and Japan; and Canaletto, a relaxed venue serving authentic Italian cuisine.
Wi-Fi Surf Plan: The most popular Wi-Fi package on Holland America Line, this choice allows visitors to remain connected aboard and access their favorite websites, such as email, news, sports, and more. For further charging, several devices may be connected at the same time.
A luxury cruise holiday is well within reach of all travelers and budgets, no matter what their ideal destination may be, with so much accessible and so many opportunities to improve.
Watch This Video-
The "holland america announcement" is an event that offers unheard of deals. Holland America Line announced that they would be offering these deals on their website and social media accounts.
Related Tags
holland america signature beverage package 2021 price
holland america cruises 2022 & 2023
holland america 2022 cruises
holland america cruise cancellations 2021
holland america cruises 2022 caribbean