Bar Harbor is a bustling harbor with all the typical amenities you would expect from a coastal town. The beauty of its natural surroundings and people will make your cruise on the bay memorable in every way possible. You'll also be able to explore Acadia National Park while there, which makes this destination particularly enticing for nature lovers.
Bar Harbor is a small town in Maine that many people visit on cruises. The best time to go is during sunset because the sun sets behind the mountains, creating a beautiful view.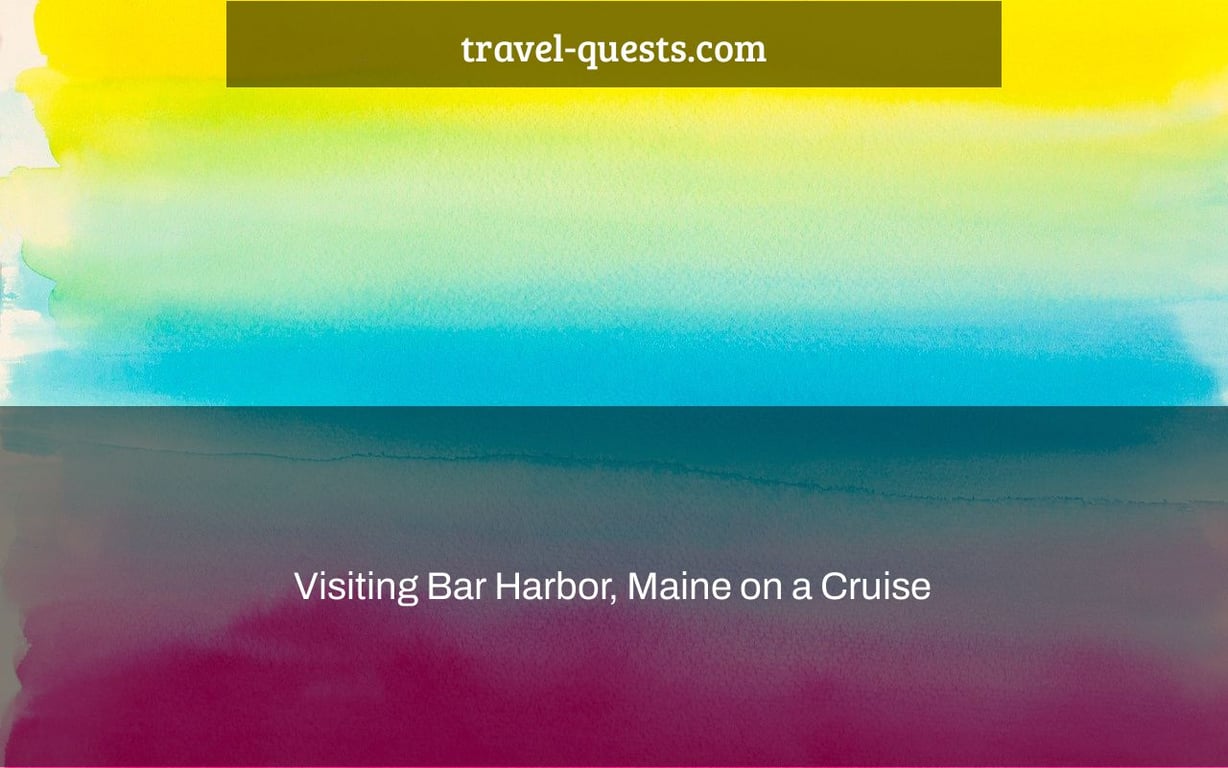 Bar Harbor is a major port on New England/Canada cruise itineraries and the entry to Acadia National Park, which is located on the northeast side of Maine's biggest island, Mount Desert Island.
Ships dock in Frenchman Bay and passengers are shuttled to the Town Pier, which is only steps from downtown Bar Harbor. Visitors may easily explore this tiny, pedestrian-friendly town on foot. The Chamber of Commerce Visitor Center, located immediately south of the pier, has maps and tour information. A free shuttle bus connects Bar Harbor with adjacent communities and Acadia National Park's numerous areas.
Bar Harbor's Background
The community was renamed Bar Harbor in 1918 after the sandbar that joins Mount Desert Island and nearby Bar Island and was originally called "Eden" after English politician Sir Richard Eden. The city's spectacular coastline beauty, specialized seafood, and small downtown businesses attract visitors.
Bar Harbor has a long history of serving as a summer getaway for authors and artists seeking to get away from the city. Many of America's most powerful families, including the Rockefellers, Vanderbilts, and Carnegies, constructed vacation villas on Mount Desert Island in the late 1800s. Bar Harbor is still a popular vacation spot for celebrities like Martha Stewart and Susan Sarandon, who are also part-time residents on the island.
Bar Harbor, on the other hand, is perhaps most recognized for its closeness to Acadia National Park. Acadia National Park was established in 1916 and was the first national park east of the Mississippi. Despite being one of the smallest national parks in the US, Acadia is frequently recognized as one of the most visited. The park covers over half of Mount Desert Island, as well as a number of nearby islets, and provides plenty of opportunities for hiking, cycling, rock climbing, and spectacular views.
Authenticity
It's all about the seafood in Bar Harbor. From classic lobster rolls and delectable lobster soup to full steamed lobster feasts and lobster ravioli, this quaint coastal village is brimming with fresh lobster. Dessert options include lobster ice cream. Fresh shrimp, scallops, oysters, crab, haddock, and other fish are all readily available, and the possibilities for sea-to-table meals are practically limitless. If you don't like seafood, don't worry; the town also has Mexican, Italian, and Asian restaurants.
Atlantic Brewing Company's beer selection is one that microbrew aficionados won't want to miss. Their hallmark beer, the Bar Harbor Blueberry Ale, is an easy-drinking beer made with wild Maine blueberries that can be purchased in restaurants and pubs around town as well as at their tasting room. Brewery tours are available every day throughout the summer season, but they can fill up quickly, so come an hour before your tour time to assure a space.
MORE: Portland, Maine Cruise Port Overview
Shopping
Shops and galleries gathered around the waterfront sell locally manufactured crafts and commodities. Because wild blueberries grow virtually everywhere on Mount Desert Island, jewelry crafted from watermelon tourmaline, a distinctive pink and green gemstone discovered in Maine, is among the most sought-after souvenirs, along with blueberry syrups, jams, and even beer. The Village Green, a small grassy area in the heart of town, has frequent arts and crafts fairs, and the Bar Harbor Farmers Market is held in the YMCA parking lot on Sundays from 9 a.m. to 12 p.m. throughout the summer months.
Attractions Cultural
Although Mount Desert Island's cultural offerings are limited, a few of museums and galleries in Bar Harbor focus on the region's natural history and Native American past.
The Abbe Museum is Maine's only museum devoted completely to the state's Native American history. The Abbe Museum, which has sites in both downtown Bar Harbor and Sieur de Monts Spring in Acadia National Park, has a significant collection of Native American artifacts spanning thousands of years, as well as displays devoted to the Wabanaki people's history and cultural customs.
The George B. Dorr Museum of Natural History, located on the campus of the College of the Atlantic in the original headquarters of Acadia National Park, contains exhibits and displays about Maine's unique flora and animals. Sea stars, hermit crabs, and other marine life may be touched and seen in their tidepool tank, making it a perfect alternative for families traveling with kids.
Excursions to the Top
Cruise guests arriving at the Bar Harbor cruise terminal usually go on an Acadia National Park excursion or a harbor sightseeing cruise. Lighthouse tours, lobster boat expeditions, and whale-watching cruises are all popular activities. Here are some of the most popular beach excursions in Bar Harbor:
Acadia National Area Tours – Although a free shuttle bus runs from Bar Harbor to Acadia National Park sites, a guided tour will allow you to explore much more of the park. Sand Beach, Thunder Hole, Otter Cliffs, Jordan Pond, and the summit of Cadillac Mountain, which is the highest point along the North Atlantic coast, are also popular stops on park excursions.
Lighthouse Cruises – The Bass Harbor Head Lighthouse is Mount Desert Island's lone lighthouse. You'll need to take a boat trip to visit Bear Rock, Egg Rock, or any of the other lighthouses in the vicinity. There are a variety of trip choices available, some of which include a visit to the outlying islands.
Lobster Boat Tours – Learn all you've ever wanted to know about life as a lobsterman by taking a trip on a typical lobster boat. As you see your captain drag in lobster traps from the ocean bottom, you'll learn how lobsters are captured. You'll also get to witness whales, seals, bald eagles, and other seabirds depending on the season, as well as stunning views of the harbor and vistas of the magnificent villas dotted along the beach.
Whale Watching Tours – Whales, dolphins, harbor and gray seals, puffins, and other seabirds abound in the seas around Bar Harbor. During whale viewing season, which spans from mid-June to mid-August, but may be observed anytime between April and October, sightings of humpback, finback, and minke whales are common.
Insider's Recommendation
At low tide, a natural sand and gravel bar leads to Bar Island, which is situated just north of the Town Pier. The sandbar is usually available for three hours, and while there, you may trek to the highest point on the island for a beautiful panoramic view of Bar Harbor and Mount Desert Island. Visitors also enjoy looking for sea stars, barnacles, and crabs in the bar's tidal pool area. To prevent being stuck on the island until the next low tide, keep a watch on the tide.
READ NEXT: Everything You Need To Know About The Bimini Cruise Port
Pin it!
Watch This Video-
The "day cruise maine" is a day cruise that will take you to Bar Harbor, Maine. This is a fun and exciting way to travel through the United States.
Frequently Asked Questions
Can you walk Bar Harbor from the cruise ship port?
A: Unfortunately, the port is not accessible by foot. You will have to take a taxi or use public transportation to get there.
Do cruise ships visit Bar Harbor?
A: Im not sure if cruise ships visit Bar Harbor, but the trip from Boston to Bar Harbor is a great days worth of sailing.
Where do cruise ships tender in Bar Harbor Maine?
A: There are a number of different places that cruise ships will tender in Bar Harbor Maine. Some tenders can be found at the dock on Commercial Street, while others may have to be reached by boat or kayak from shore.
Related Tags
bar harbor, maine cruise
bar harbor cruise ship schedule 2021
maine cruises 2021
best sunset cruise bar harbor
3 day maine cruise